Copyright © Priors Dean Vineyard. All rights reserved.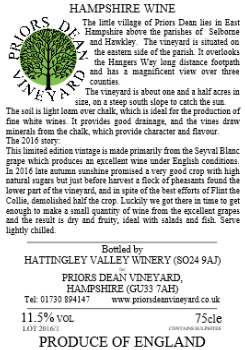 2016 Pheasants Reserve
The 2016 story:
This limited edition vintage is made primarily from the Seyval Blanc grape which produces an excellent wine under English conditions. In 2016 late autumn sunshine promised a very good crop with high natural sugars but just before harvest a flock of pheasants found the lower part of the vineyard, and in spite of the best efforts of Flint the Collie, demolished half the crop. Luckily we got there in time to get enough to make a small quantity of wine from the excellent grapes and the result is dry and fruity, ideal with salads and fish. Serve lightly chilled.
£9.50 PER BOTTLE. £112 PER CASE (12 bottles)